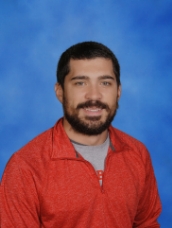 Patrick Hamilton's Home Page - Social Studies/History
My name is Patrick Hamilton. Welcome to the History website for the Amesbury Innovation High School.

As the Social Studies and History teacher at the Amesbury Innovation High School, I truly cannot wait to get started and meet each and every one of you. It is an honor to be able to work within such an historic, traditional and fun-loving community. I graduated from St. Joseph's College of Maine in 2012 with a Bachelor of Arts degree (History/Education) and have worked in the residential living field since 2012. In fact, I still work per diem at St. Ann's Home and School residential facility, as I believe the experience gained there, regarding trauma sensitive practices and behavior management, transfers directly into my work as an educator.

In any of the history classes that I teach, students will learn how to take historical information and apply it in a practical format. More specifically, students will gain hands on experience as to how he or she can use this information today and how it affects us on an individual, social-emotional and global level. I am a big proponent of student needs and learning styles in my classes. This is accomplished by using a variety of materials, teaching strategies and differentiation, as well as resources. However, first and foremost is the input of the students and parents.

Outside of the classroom I enjoy participating in almost any sport or athletically involved activity. I played football, basketball and baseball in High school, as well as continued my baseball career in college. I am an avid allwater fisherman, commonly utilizing fishing to explore and experience the outdoors. I also play the drums and enjoy many different varieties of music.

I grew up in this area and understand the sense of pride that exists in this region, for this region, that runs deep in community members. Again, I cannot wait for all of you to become a part of my life and will do everything in my power to be a positively influential figure towards both student and parent alike.