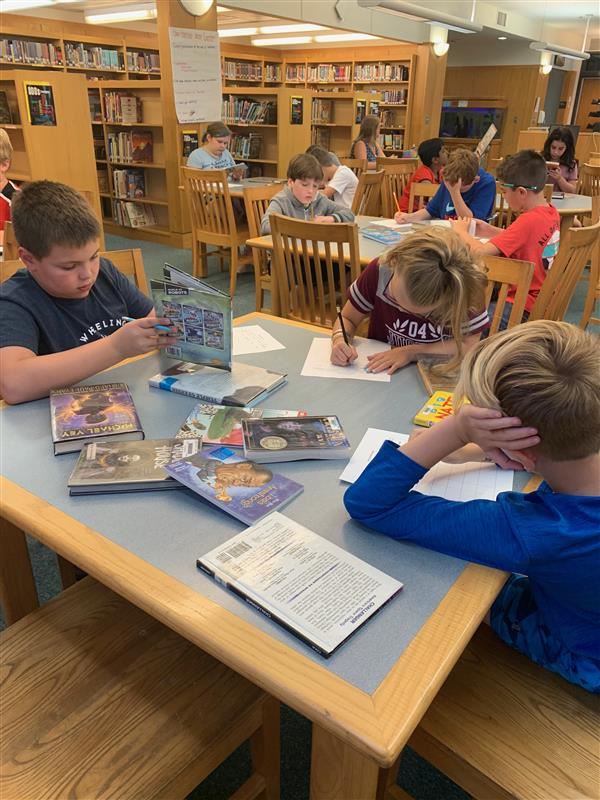 Welcome to the Library Media Center Grade Five

Day One: Students in grade five are the first visitors to the Library Media Center.

The Aqua and the Lime team come up separately and spend 4 days in the LMC learning how to become independent and effective users of the Library Media Center. The lessons will focus on Destiny, our online library software program, which the students may use at school or home. Fifth graders will learn how to perform a self-checkout incase I am away from the front desk.

On the first day, students learned how to locate materials in the library and all the procedures for visiting the library. They learned how to check out books independently incase I'm teaching a lesson when they stop by. The 5th graders also learned how to determine which barcode number to use for a self-checkout and how to locate books in the LMC, using call numbers. They acted out a skit written by Mrs. Byman about the necessity of learning how to conduct a self-checkout.

Day Two: Students began the day practicing logging onto Destiny and Google Classroom and were given their student ID numbers, which they need in order to log onto Destiny. Once this was successfully accomplished, they learned briefly how to use Destiny at home.

Day Three: Today fifth graders learned how to locate books in our library using the catalog tab in Destiny. They learned their are five ways to conduct a search: keyword, title, author, subject and series. They learned how to place a hold on a book, in order to avoid long waits for popular titles. They were introduced to The Top Ten, which lists the ten most frequently checked out books in our library. This changes daily! Students went on a Scavenger Hunt where they were asked to locate many items in the library such as the pencil sharpener, the grade eight alcove, a biography on Abigail Adams and many other items. They practiced placing holds on books, and using Destiny Quest in order to stay current on topics that are relevant to the month of Sepember. Destiny Quest is a a feature in Destiny that showcases timely topics such as eating a healthy breakfast, concussions, banned and challenged books, just to name a few. One the students select a topic that interests them, they click on the link and will be taken many excellent websites on this topic.

Day Four: Today the fifth graders had a test on the self-checking out process. This is extremely important becasue once this skill is mastered, students may checkout books independently. If they make mistakes, books can be lost and a lot of work is created for Mrs. Byman!