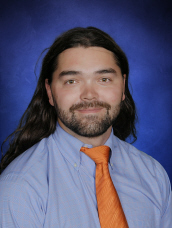 Pat Pingeton's ELA Emporium
Greetings to students, parents, community members, fellow educators, and other visitors!

I am Patrick Pingeton, and I am currently in the midst of my fifth year as the ELA instructor for Amesbury Innovation High School. It has been my pleasure to deliver personalized instruction to an incredibly diverse and unique group of students every day, and teaching the students at AIHS has made me a better human being and educator.

Prior to my work as an ELA instructor at AIHS, I taught in Lawrence, Salem, and Dorchester and worked as a SAT instructor and college counselor for both Kaplan Test Prep and a youth development non-profit for four years.

Students in my classes are exposed to a variety of materials, activities, teaching strategies, perspectives, and media in order to foster a community of 21st century citizens capable of functioning in an increasingly diverse and complex world. I am a firm believer that every student wants and needs to be challenged past their comfort zone, but that it should happen in a safe, supportive environment that fosters a growth mindset. Teaching is a two way street, and just as I ask my students to grow and improve as learners, I expect them to challenge me to grow and improve as an educator

Outside of the classroom, I am an avid musician in the Boston music scene and enjoy trying new restaurants, traveling, live music, and hanging out with my Bernese Mountain Dog Mr. Jibbers.

Feel free to reach out with any questions, comments, concerns at any time!