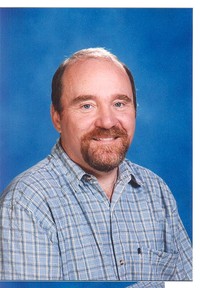 Mr. McBrien and the AES Mac Lab
Instructional Technology - Mr. McBrien
Office Phone: 978.388.3659 x145 (Please note, my voicemail does not work. If you would like, you may leave a message with our office staff and I will respond as soon as possible. I regret the inconvenience. Email: bruce.mcbrien@amesburyma.org

My instructional goals are to provide my students with the foundational understanding of what these machines can do, and how they might use them to create, investigate questions and most importantly, to solve problems. These computers are machines to be mastered. not complicated devices meant to frustrate and intimidate. It is very important to me that students feel relaxed, safe and challenged when in my lab...comfortable exploring, learning and getting better at using these machines throughout the year.

Students may look forward to a spiraling curriculum where each year builds upon the learning from the last, as well as seasonal offerings of after-school enrichment. Coming this fall will be a Chess Club as well as an animation club. During the winter there will be a robotics club in the mix, and in the spring I hope to bring back the photography club which was wildly successful a few years ago. Fourth Graders may anticipate the start of Newspaper Club, which provides young writers a way to be creative each week as well as to produce and publish high-quality writing.
Related Files
This is the 20th edition of our school newspaper, the Explorer.Our reporters have planned, researched, interviewed and written their stories...now we hope that you enjoy them!

Faculty Advisor: Bruce McBrien

Student Editor: Lila Kennet

Parent Volunteers: Laurie Cameron $ Meghan Petersen
If you are new to our school, we have student computers in the classrooms, as well as a PC lab for teachers to use and a Mac lab in which I teach. I work hard to make sure that my lab is a learning zone where children are empowered with technology, using our new computers and other digital tools like document cameras, digital scanners, digital cameras, Flip video cameras and more. This year we have added another scanner to our toolbox and will be instructing students in how to capture printed or drawn media as digital files. Our lab is a place where we celebrate the newness, the fun and the discovery that technology holds in store for us, as well as build on the skills we learn to do ever more complex and interesting things. None of us can ever know it all, as the world is changing around us with ever-increasing speed, so all of us are on an adventure of learning together. Last year students pushed me higher and farther than I have ever ventured, and the reward was tremendous. Students know that I don't have all the answers and that I don't necessarily know how to do it all, and that is ok. Our lab is a place where it's ok to make a mistake because we can all learn from them and from each other. Together we will move from discovery toward proficiency, which is exactly what our grading rubric reflects. I have expectations of student participation, their progress toward proficiency which indicates their movement from needing help to independence. Students will soon be very busy, exploring and learning the 21st-century skills that they will need as they move through the grades.

Thank you for visiting. I am trying to keep this page and those connected much more frequently updated, so if this looks stale, please let me know...really :)
I hope to do a better job this year with my newsletter as well, and that will give you more of a feel for what we do here. I invite you to visit there as well as the links page for many useful links for home learning. I have gathered many more resources to share with you and hope to have those posted soon.

There are many links along the side of this page...please check them out!

Please check out my news updates, examples of student work as slideshows and especially my resources page, for helpful math and language websites as well as the website set we use for instruction in our lab.

Thanks for visiting, and come back soon!