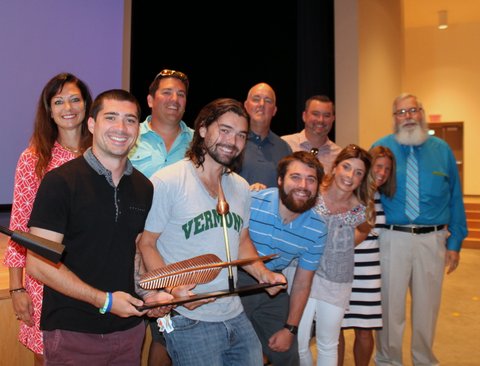 The faculty and staff at the Amesbury Innovation High School are an exceptional group of educators and support personnel. They are dedicated to empowering students, while providing them with academic skills and knowledge they will use to succeed after their graduation from the Academy.

Eryn Maguire is the principal of Amesbury Innovation High School. Prior to becoming principal in 2014, she was the math and science teacher at Amesbury Academy for 7 years. She is dedicated to the social, emotional, and academic success of each AIHS student. She has a Master's in Public Health, as well as a CAGS in Administration.

Bethany Noseworthy came to the school in 2002. She is the Guidance and Adjustment Counselor, as well as the Senior Class Adviser. She received her Bachelor of Arts degree in Communication from the University of Southern Maine and her Masters Degree in Education in School Counseling PK-12 from Salem State College.

Mike Hildt

is teaches the mathematics courses at AIHS. He has served two years in the Peace Corps in Ghana and is a native of Amesbury. Mike received his Bachelor of Arts degree in Communications and Sociology from the University of Massachusetts, Amherst and a M. Ed in Moderate Disabilities from Cambridge College. His expertise in the area of alternative education is a valuable asset to the program.


Jon Kezer teaches Social Studies, specifically World History, US history, Street Law, and Government. Previously Jon was a fifth grade teacher at Amesbury Middle School.

Frank Smith is the English Language Arts teacher. He is working hard to build the ELA program at AIHS and is developing the ELA curriculum.

Dan Swansen heads the Science courses. He has extensive knowledge of Biology, Ecology, and other Life Sciecnces from his studies University of Massachusetts, Amherst. "Dan the Man" has gained the respect of students and staff since joining the AIHS faculty in 2016. His easy going nature and affinity for science and video games have given him a reputation as "a pretty chill dude".

Evan Melanson, Special Education Teacher, studied Psychology and Criminal Justice at Michigan State University. He has taken quickly to the field of education as the second Special Education Teacher. Evan's upbeat personality and quick-witted sense of humor make him an easy person to talk to and work with.

Charles Wright is the newest Special Education teacher at AIHS. In the fall, he coaches high school football in Sanborn, NH. Charles holds the distinction of being the first AIHS graduate to return as a teacher.

James Gaudreau

, Paraprofessional, provides support across all curriculum areas. He is an avid musician and plays several instruments.